Your Olympic hopeful is taking to the ice for the very first time! Hooray!
Will they be expected to wear a sparkling skating dress with matching scrunchy? Or full hockey pads? Not yet. That all comes too soon. For now a helmet, warm jacket, water-proof mittens, socks, and snow pants will do you just fine. As with all activities, we do what we need to do to keep SkaterGirl's hair out of her face.
—–
From the Plymouth (MN) Skate School website :
Beginning levels are required to wear helmets.
Skaters will benefit more from a lesson while wearing proper skates. We prefer boots be of leather rather than vinyl, and they should have strong ankle support. Blades should be of high tempered steel and properly sharpened. Double runners are not allowed.
It is important that all skaters are warm and comfortable while skating. We suggest dressing in layers and request all skaters to wear mittens or gloves.
No shoes allowed on the ice.
—–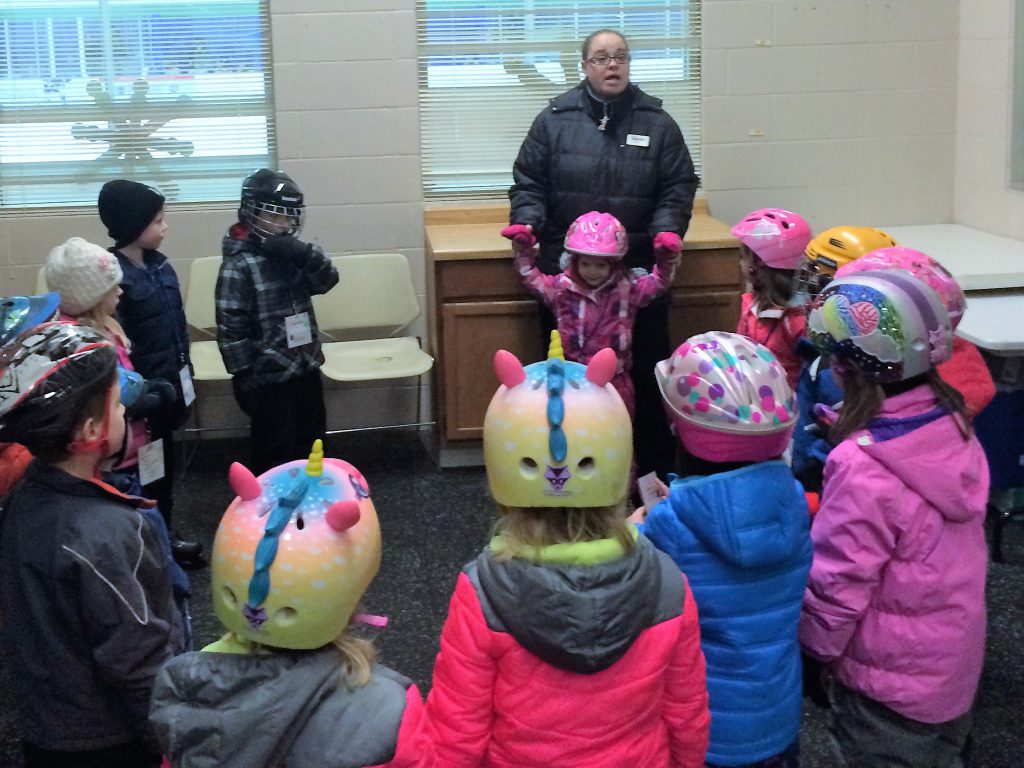 Helmet
We got by with a properly fitted bicycle helmet. Of course a winter sports helmet would be great.
Skates
Kiddo's going to want skates with a sharp blade and really supportive comfortably-fitted boot. Not the adjustable skates or the ones with double blades. Those are fine on a pond in the backyard, but we're paying for lessons here. Let's get our money's worth!
Rent Skates
Most rinks rent skates. Maybe a good place to start for two reasons:
What if they get on the ice and realize it's waaayyy harder than it looks on TV and decide right then and there that skating is a silly sport anyway and their new dream is to play soccer in the World Cup. Then you're just out the $3 rental.
If they decide they want to pursue skating, you'll have the chance to try the skates and figure out which size is best before you commit to buying a pair. It also gives you the time to look for good used skates to buy.
Buy Skates
If/when you're ready to own skates, I highly(!) suggest looking for used ones first. Ask around at the rink first and do a little googling. Kids are constantly outgrowing their skates. Look for a reputable brand that makes beginner skates, like Riedell or Jackson. We had really good luck at the Play It Again Sports in Minnetonka, MN. We found used Riedell skates for $20! Maybe you have a re-sell place like that near you? If not, check out this Facebook group (please tell me if you know of any in other countries as well):  Figure Skating Swap – USA (National)
Next time: Expectations for Beginners